Connection between Terminals
It is possible to make a connection between the national terminals and also with the main parking lot, through the Pedestrian Tunnel Level.
Free shuttle buses allow connection between Terminals 1, 2, 3 and 5 and from the terminals to the economy parking lots E, G, H, the Multimodal Facility (Lot F and rental cars) and the Metra transfer station O'Hare. 
Frequency: from 5 to 15 minutes.
On the other hand, the O'Hare Airport Transit System (ATS) is an automated people mover system with a 3 mile (4.8 km) long journey, which only takes ten minutes to complete the journey within the airport complex.
The fully automated free rail system transports passengers to and from Terminals 1, 2, 3 and 5, as well as the Multi-Modal Rental Car Facility (MMF), Economy Parking F, Kiss 'n' Fly, Pace buses and Metro.
5 are the stations served in T1, T2, T3, T5 and the new one in the MMF
Hours: The (ATS) operates from 10:30 am to 8:30 pm daily, and shuttle buses are available 24 hours a day.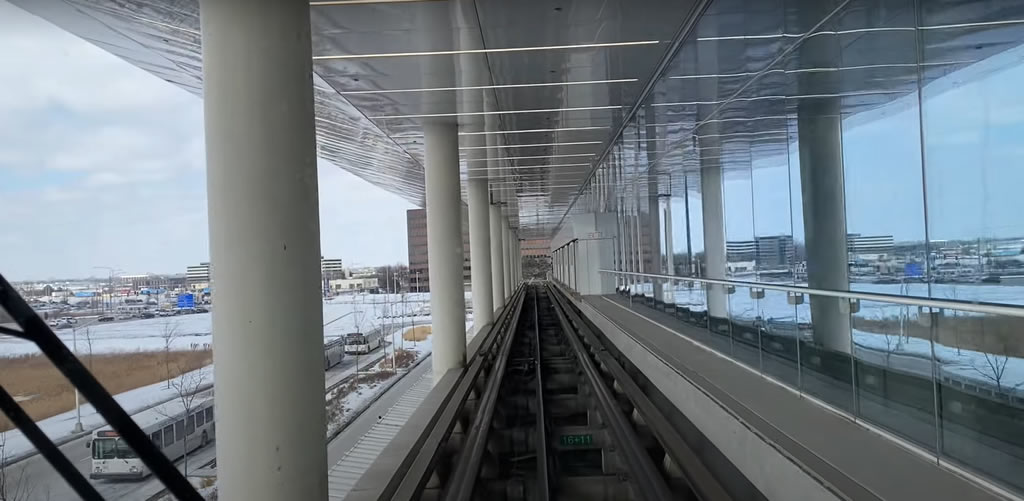 Image from Youtube