Connection between Terminals
It is possible to make a connection between the national terminals and also with the main parking lot, through the Pedestrian Tunnel Level.
Terminal Transfer Bus (TTB)​ allows connection between Terminals 1 and 5 and from Terminal 3 and 5. It means, passengers connecting to a flight at gates M1-M40 in T5 can avoid existing and re-entering security. During the night, TTB is not working, so passengers will need to exit security and board the Airport Transit System (ATS), then be rescreened at a TSA checkpoint.
Frequency: every 15 minutes.
Hours: 11.30 am - 9.30 pm daily
Bus stops: T1 (Gate B1) - T3 (Gate G17 - Gate K20), T5 (Gate M13)
The O'Hare Airport Transit System (ATS) is an automated people mover system with a 3 mile (4.8 km) long journey, which only takes ten minutes to complete the journey within the airport complex.
The fully automated free rail system transports passengers to and from Terminals 1, 2, 3 and 5, as well as the Multi-Modal Rental Car Facility (MMF), Rental Cars, Economy Parking F, Kiss 'n' Fly, Pace buses and Metro.
5 are the stations served in T1, T2, T3, T5 and the new one in the MMF
Frequency: every 10 minutes.
Hours: The (ATS) operates from 24/7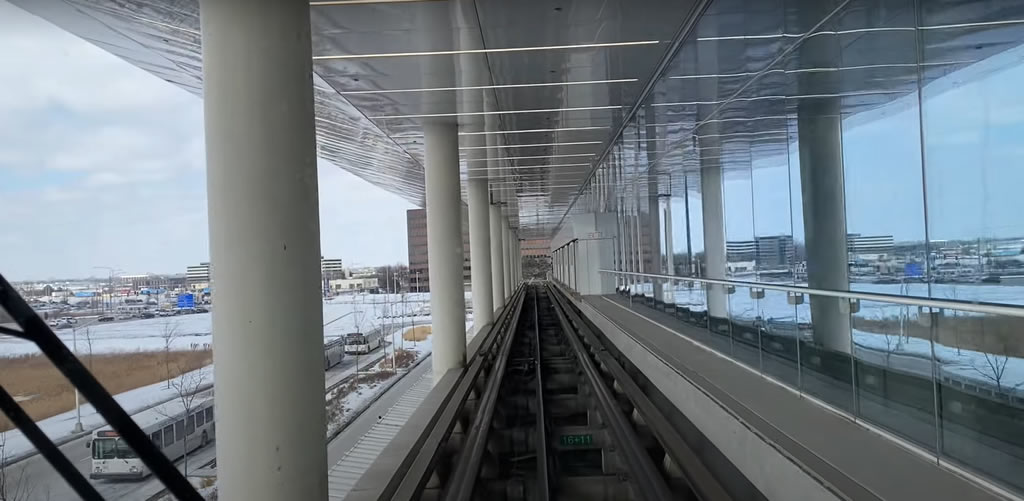 Image from Youtube