Regional Buses and Shuttles
There are several regional buses and local shuttle vehicles, serving O'Hare and transport passengers outside the Chicagoland area. Basically, regional buses run to/from areas in Illinois, Indiana, Iowa and Wisconsin.
Local Airport shuttles are a fantastic option for transportation to and from O'Hare International Airport, offering a convenient and hassle-free alternative. Whether you're traveling from the city or suburbs to O'Hare or need to reach a hotel from the airport, shuttle services can efficiently get you where you need to go.
Pickup location
The central pickup location is the Multi-Modal Facility (MMF). Passengers must board at MMF Bus Bays #5, #6, or #7. The MMF is accessible from each terminal via the Airport Transit System.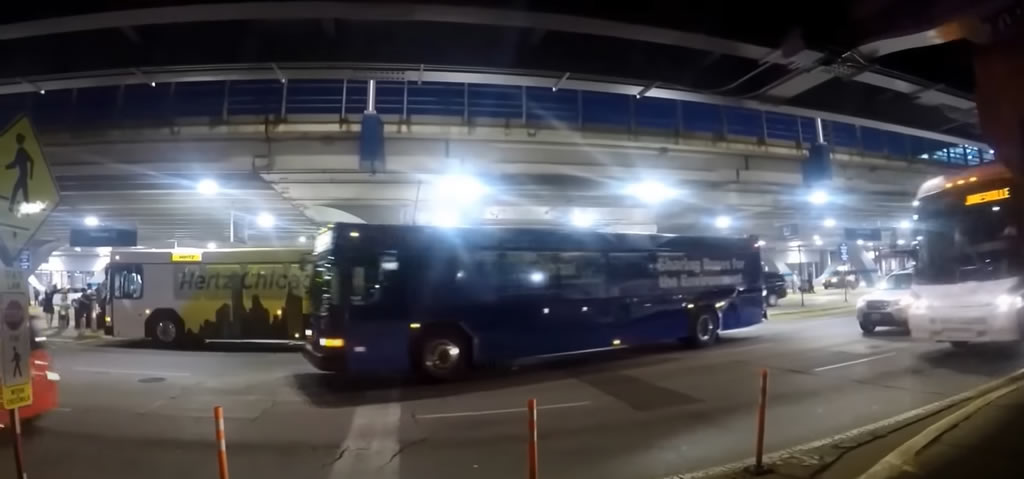 Image from Youtube
The following is a list of regional transportation providers. To see the most up-to-date offers, go to the provider's website.
Coach USA/ Van Galder
Janesville, WI, Madison, WI, South Beloit, IL and Rockford, IL    
1-800-747-0994    
Website
Coach USA/ Wisconsin Coach Line
Serves: Kenosha, WI, Racine, WI, Milwaukee, WI  Brookfield/Waukesha, WI, Milwaukee and Mitchell Airport    
1-877-324-7767    
Website
Express Air Coach
Serves: Non-stop ground service to West Lafayette, IN, Champaign/Urbana, IL, Hammond, IN, and Elgin, IL    
1-765-743-3120    
Website
Lafayette Limo Inc.
Serves: ​Various locations on Purdue University's West Lafayette, IN campus    
1-765-743-3120    
Website
PCC/Peoria Charter Coach
​Serves: Peoria (Bradley, City Link), Normal (IL State, IL Wesleyan, Amtrak Uptown Station), Bloomington/Normal Airport, Champaign (University of IL, Amtrak IL Terminal), Chicago (Midway Airport, Amtrak Union Station).    
1-800-448.0572    
Website
Reindeer Shuttle
​Serves: Chicago, Purdue University (West Lafayette, IN) Indianapolis, IN, and Crestwood, IL    
765-637-5124    
Website