Frequently Asked Questions at O'Hare airport
Answers to passenger Faqs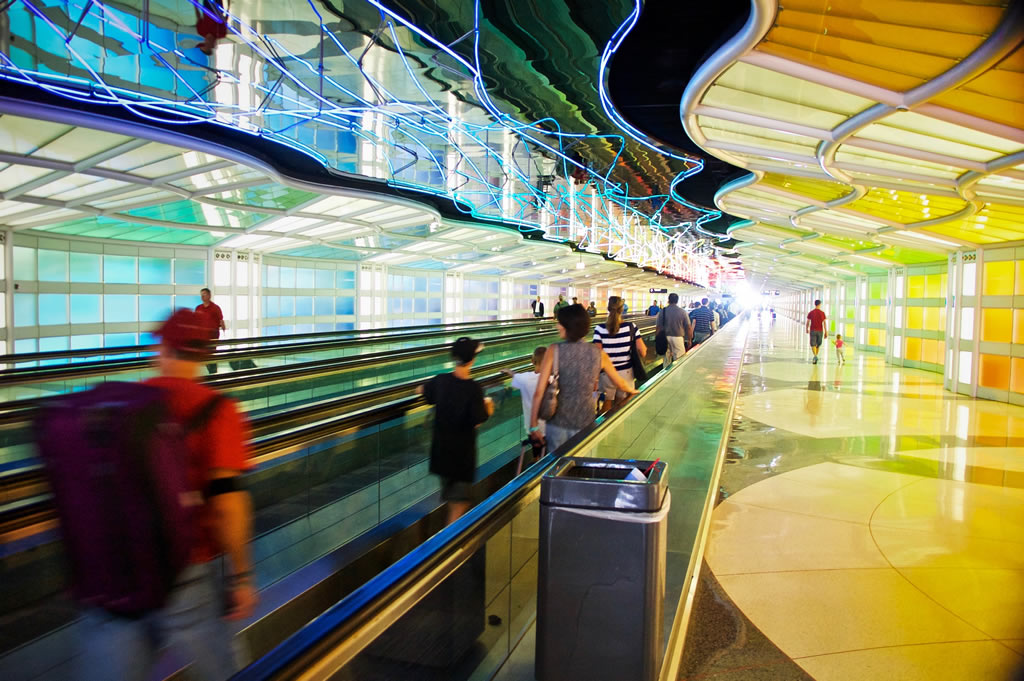 Photo by Ben Wicks - Unsplash
Covid: What to take into account when entering the United States?
As of May 12, 2023, noncitizen nonimmigrant visitors to the U.S. arriving by air or arriving by land or sea no longer need to show proof of being fully vaccinated against COVID-19.  If you plan to visit the U.S., you do not need to be tested or vaccinated for COVID-19. U.S. citizens going abroad, check with the Department of State for travel advisories.
Travel to or within US requirements
---
What is the easiest way to access downtown Chicago by public transportation?
The CTA Blue Line is the easy public transportation way to connect the airport to the Loop. It provides 24-hour rapid transit train service between Chicago-O'Hare International Airport  and the Forest Park terminal, via downtown Chicago (The Loop). Journey time O'Hare airport - Downtown: 35 minutes. A single regular ticket starts from $5.00.   
---
Where is the rideshare pickup location?
Loading zones for Rideshare services (Uber, Lyft or Via) are available in Terminals 2 and 5 and the Kiss-N-Fly zone, located on the northwest corner of the Multi-Modal Facility building. LEARN MORE
---
Is there free internet access?
Unlimited free Wi-Fi internet access is available throughout all terminals at O'Hare International Airport and is offered both pre- and post-security. Passengers should connect to "Boingo Hotspot" or "_Free_ORD _Wi-Fi" networks. Launch your internet browser and then you must load a new non-https URL to prompt the Wi-Fi access page to load. ​Under ORD Free Unlimited Wi-Fi, choose "Watch Ad to Connect"
How to transfer between the terminals?
A free shuttle bus transports (every 5 to 15 minutes) passengers and employees between terminals (Terminals 1, 2, 3 and 5).  On the other hand, a free fully-automated train system transports passengers to and from Terminals 1, 2, 3 and 5, as well as the Multi-Modal Facility (MMF) for rental cars, Economy Parking Lot F, Kiss 'n' Fly, Pace buses and Metra. LEARN MORE
---
What to do in case of a long layover?
Passengers in transit can get a day Health Club pass, located at the on-site Hilton Hotel, and enjoy the steam room, sauna, lap pool fitness area, showers and full-service locker rooms. In all terminals there are numerous comfortable airline lounges. In addition, there are children's areas, work stations, yoga room, as well as a wide range of cafes, restaurants and stores.
---
Is there a direct connection to Midway Airport?
The company Civitatis offers direct private transfer service between Chicago O'Hare and Midway airports and also with areas of the city. There are vehicles for 2 passengers or up to 5 passengers. LEARN MORE
In addition, GO Airport Express serves the two major airports in the Chicago area including O'Hare (ORD) and Midway (MDW). They have airport shuttles and private van charters pick up and drop off daily between both airports, downtown Chicago and the surrounding suburb.
Taking a taxi from O'Hare to Midway is another convenient way to travel between the two airports. Rates will vary depending on the time of day, weather and cab service. You may also use the "Shared Ride" service if you have multiple parties available for the trip. Shared ride fares from O'Hare to Midway are $37 per person. LEARN MORE
On the other hand, if you are with a low budget and have time enough, You can take the CTA from O'Hare to Midway with one transfer downtown. Take the Blue Line train from the O'Hare Station located in the lower level of Terminal 2. Get off at the Clark/Lake Station downtown and transfer to the Orange Line free of charge. Finaly, take the Orange Line toward Midway and get off at the Midway Station. Be sure to allow up to two hours for the trip.
---
What to do in case of loss of valuables or luggage?
If you have forgotten an item near the ticket counters, gate areas. inside the aircraft or didn't get you checked baggage or is damaged, please contact your airline. On the other hand, if you have lost an item within the airport grounds, contact one of this areas:
TSA Checkpoints / Security Lines: www.tsa.gov/form/lost-and-found 
On the Airport Transit System (ATS): contact O'Hare ATS at (773) 601-1817
Parking facilities: contact Standard Parking at (773) 686-7532 (Keys Only. All other items lost in parking lots are turned over to Chicago Police (773) 686-2385).
Food service locations: call (773) 377-7804
Retail service locations: call (773) 894-3900.
Terminal 5 Customs Area: contact U.S. Customs at (773) 686-3157​
Public areas of the terminal and the Multi-Modal Facility (MMF): call Chicago Police at (773) 686-2385 or (773) 462-9515.
---
Is there a luggage storage service?
O'Hare airport doesn't have oversize item storage service. If you get the Health Club Membership, you could use the locker rooms (but only for small luggage)
---
Is there any free parking area?
Only pick up and drop off options offer free parking but for limited time. More information about PARKING 
---
Is possible to get a SIM card?
Yes, in the Hudson stores in concourse M of Terminal 5, and in the international arrivals area of ​​T5, by the baggage claim area.
---
Where can I get travel assistance while I am at the airport?
Travelers Aid Chicago is a social service agency located at O'Hare. It provides guidance, support and advocacy services for passengers during travel. The professional staff in both the booths (T1, T2, and T5) and the main office (T2) can assist with crisis intervention information as well as social services for travelers and visitors. Volunteers stand ready to assist passengers throughout O'Hare International Airport as well. LEARN MORE